YouthBuild helps young people, builds community
Link to the original Pantagraph article here.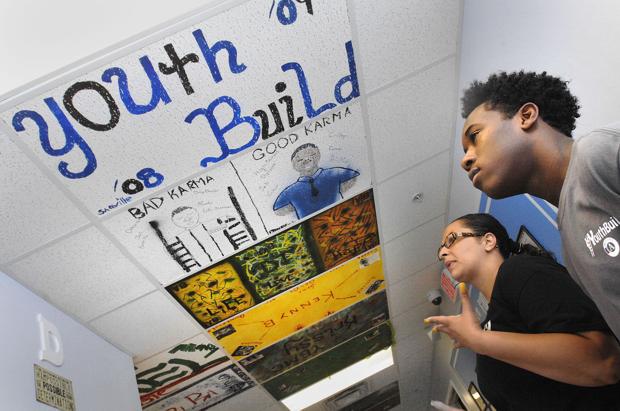 NORMAL — Darien Davis was not progressing at Normal Community High School.
Davis, who has attention-deficit/hyperactivity disorder, said he needed to keep moving.
"I couldn't sit still," Darien recalled. "That got me in trouble."
Davis came to YouthBuild McLean County Charter School in March 2014. Like his classmates, he learned in nontraditional classrooms while completing community service work.
Now 17, the Normal resident was among 35 students to graduate from the school with a high school diploma this week. It was YouthBuild's 22nd graduating class.
"They helped me to mature," Davis said Friday at YouthBuild, 360 Wylie Drive.
The 35 students performed 47,000 hours of community service work for agencies that include Boys & Girls Club of Bloomington-Normal, YWCA McLean County and McLean County Nursing Home.
"Every student had a specific goal at each agency," said Alicia Lenard, YouthBuild development director and a teacher. "So they are helping those organizations to reach their goals."
"Our purpose at YouthBuild McLean County is to rebuild broken young people while building the community," Lenard said.
YouthBuild McLean County — a nonprofit agency supported by federal money, local businesses and foundations and United Way of McLean County — opened in 1994. It includes the school (which is part of Unit 5) for students up to age 21, an academy for adults to receive their GED, an AmeriCorps community service program and a summer jobs program to keep kids out of trouble.
From last September through this August, about 175 students will have been enrolled in YouthBuild, Lenard said.
Some students are from stable homes but have needs that can't be met in traditional classrooms, Lenard said. Others have experienced trauma such as assault and some have been homeless, she said.
"I didn't like it at first because I thought there were a lot of gang members here," Davis admitted. But he realized that those students may have associated with gang members but weren't members themselves. When Davis stuck up for himself, those students appreciated that and they became friends.
"I saw another side of them, a loving, compassionate side," he said. "I learned that you don't judge a book by its cover."
Davis volunteered at Colene Hoose Elementary School, working with students with behavior disorders and special needs. He liked it and has decided to go to college and become a school resource officer or a special education teacher.
"Now they don't just see delinquents," Davis said of community members who see YouthBuild students volunteering. "They see mature adults trying to help society."